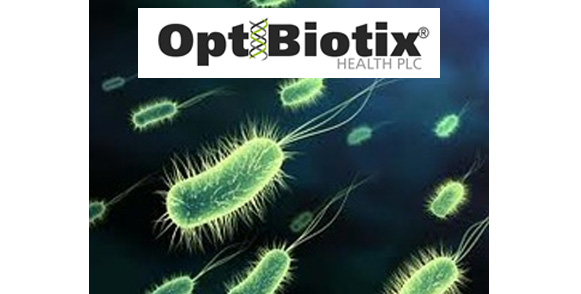 OptiBiotix Health Share Analysis
OptiBiotix Health (LSE:OPTI) has been one of our most successful share purchases of late, rising 60% since we bought in September.
On their website – www.optibiotix.com – OptiBiotix explain that they are interested in "the development of natural products for the prevention, management and treatment of human diseases… OptiBiotix Health is creating a range of products designed to prevent or manage many of the chronic and debilitating illnesses associated with lifestyle and aging.  The company sees products targeted at lifestyle diseases (diabetes, hypercholesterolemia, obesity) and 'healthy ageing' as a growing area of consumer neeed."
At the moment their products in development seem to be primarily microbial strains that will aid with cholesterol reduction and weight loss.   'In development' is a key phrase here – this is essentially still a startup company in the development phase, so this is like all similar businesses a high risk investment but also one with potentially very high rewards.
OptiBiotix actually first came to my attention when I saw an article about it on Share Prophets a few months ago.  I was browsing the excellent commentary on Quindell by their fierce critic Tom Winnifrith when his article on OptiBiotix caught my eye.  You can read that article here – http://www.shareprophets.com/views/7897/optibiotix-nizo-deal-valuation-crackers- – but in summary it was announcing a contract that had just been signed between OptiBiotix and Nizo Food Research to undertake pre-clinical trials for their cholesterol lowering product.  Mention is also made of the strong cash position of the company (quoted as £3m in the bank), good management team and massive potential market size, plus a target price of 25p by Christmas at a time when the share price was only around 8p.
Floated only in August, to raise £3.3million, OptiBiotix now has a £9.45m market cap.  At this early stage of its life, with no turnover as yet, there's little fundamental analysis that can be done.  All we can really look at is cash in the bank, potential for growth and analysis of the share price itself.  The funds from the recent flotation are still fresh, and from what I've read are being used very sensibly and conservatively.  Relative strength for the share price is 50% in the past 3 months, 34% in the last month alone.  Right now the mid price is 14.375p so things are ticking along very nicely for investors.
Certainly the market for these products is massive so this could be a huge growth story, but one always has to be a little cautious when a company is in its early days like this.  Things can go wrong, money can run out, further fundraising may be required etc..  So we're optimistic but cautious. Today the share price hit our target price of 14.5p, 60% up from what we paid so we took out our initial investment to reinvest elsewhere, but have left in our 60% profit (free carry shares) as we are hopeful that at least in the short term the growth story will continue.
Disclosure: We are invested in Optibiotix.  As always we are not a share advisory service and do not recommend you to copy our trades.  Please always do your own research and consult a financial professional before making any investments.  Investing in the stock market carries inherent risk and all of your capital could be lost.