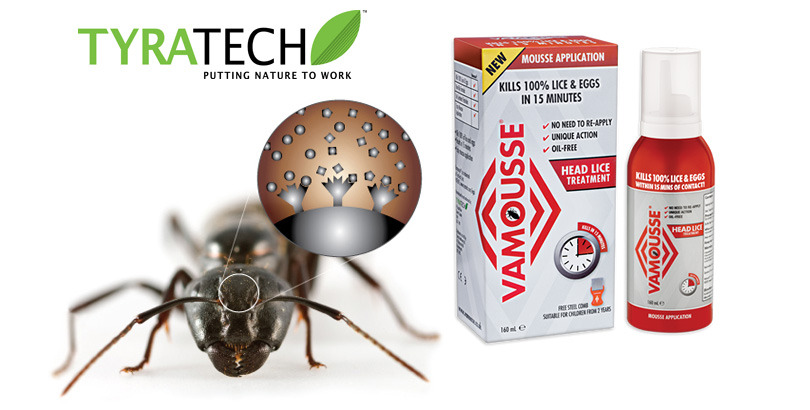 Tyratech Shares Rise On News of Listing With Boots and Superdrug
This was a great week for shareholders of Tyratech (LSE:TYRU) with the shares rising from 7.5p to finish the week at 11.13p – a gain of approximately 48%! The catalyst for this great performance was news of a £3.5 million share placing to fund a launch of their Vamousse head lice shampoo in Boots and Superdrug.
Tyratech specialize in insect repellents for both humans and animals that use only natural ingredients and avoid the use of harmful chemicals. They first gained widespread attention in the UK back in February when they were one of the Midas Share Tips in the Daily Mail's 'This Is Money' section. MIDAS tipped them on the basis of their imminent launch in Walmart stores across the USA and the share price subsequently rocketed from 6.5p to as high as 20.5p. We even got in on the action ourselves buying at 9.25p and selling at 18.11p when we felt the growth had peaked for the time being.
The shares subsequently dropped back to around the 12-13p level and stayed there in the absence of much news until June when demand seemed to dry up entirely for the shares and they fell back to 7.5p.
Normally a placing is met with displeasure from shareholders but in this case when coupled with the news that the money raised would be used to get Vamousse in the UK's two biggest chemist chains it instead reignited interest in Tyratech shares. Were it not for the negative stock market reaction to the tragedy in the Ukraine, perhaps the share price would have climbed even higher this week.
So how does Tyratech really stack up as an investment? And will we be investing ourselves?
First things first, Tyratech is not yet a profit making company. The most recent financials posted a £4.9m loss off a measly £1.37m revenue, although a more modest £0.2m loss is forecast for this year and 2015 is expected to yield their first profit. Cashflow seems weak, so it's no surprise that a £3.5m placing was required to fulfil the Boots/Superdrug deal. The balance sheet is also very weak, with 2013 showing negative equity of -£1.34m. So based on historical metrics alone, Tyratech does not have a strong investment case and looks a very risky place to put your money.
So let's look to the future. Sales are forecast for £6m in 2014 and £8.7m in 2015. If targets are met, 2015 would see a Price to Earnings Ratio (PER) of just 9.83, which would be very reasonable for a growth company indeed. Vamousse has been on the shelves of Walmart now for a good few months so we should soon start to get some idea of how those sales are going and then we'll next be looking to the results of Boots and Superdrug. These three major listings are big news and presuming that sales go well and the product is well received then things on the face of it look rosy as far as revenue goes. Remember as well that this is just one of Tyratech's products, and that Vamousse is already on sale in thousands of pharmacies in the US. They are also developing new products for repelling mosquitos and ticks, another huge market.
So the first big question that hangs over whether Tyratech will be successful is 'will the flagship product of Vamousse truly take off?' Looking at the reviews online (see for instance on Amazon – http://www.amazon.com/Vamousse-Head-Lice-Treatment/product-reviews/B00FAC8AV4) the signs are good. Most reviewers are reporting very good results with the product. And Vamousse has the unique selling point compared to other products of not putting chemicals onto your child's head, which is always a plus! Another strong case for Vamousse is that lice have developed a strong resistance to a good number of the more traditional treatments. Given this limited data to work with, I do expect that Vamousse will capture a good share of the head lice treatment market, one that Midas reported as being worth £430m a year globally and £91m in the US alone. If you take just the Walmart stores and pharmacies they service in the US, that's already well over 6,500 stockists! Do some quick maths and that projected sales forecast of £8.7m for 2015 starts to look conservative.
The second question is will Tyratech be able to fund the rapid growth they are expecting? Will the £3.5m raised be enough for the forseeable future or will they need further share placings? I suspect the latter to be honest. But that's not unusual in a growing company. It's not the best for shareholders as it dilutes their holdings, but many current popular growth stocks have had numerous share placings to keep them going. It's certainly a risk to bear in mind though with regards to expected share price increase and a key in de-risking this investment will be better cashflow reports in future.
In answer to will we invest: well, it certainly qualifies as a 'Loco' investment. And by Loco in this case we mean higher risk, speculative and possibly one that will give shareholders an exciting and/or nervous ride. And yes we have taken a new long position in the company earlier this week. Our timing wasnt ideal and I am kicking myself that we didnt pull the trigger the previous day when it was still under 8p, but we're now in for the ride. I expect things may not move all that much for a while now until we start to see some data, but if market expectations are reached or exceeded then I expect a return to at least the 20p it hit previously. Depending on the market conditions as a whole, especially from the effects of the continued fallout from the Ukraine/Malaysian Airlines tragedy, we could even see a continuance of the current rise next week. Especially if the media continue to report positively on the company. That said, we say again – this is a risky share to invest in, so we acknowledge substantial risk of losing all or some of our investment. We will certainly be monitoring this one closely. As always we are not a share picking or stock tipping service and do not advise you to follow our investments with your own. Please always do your own research, be careful with your hard earned money, be sure of your own acceptable risk profile and choose your investments wisely.
Disclosure: As mentioned above we are invested in Tyratech Inc (LSE:TYRU) as part of a diversified portfolio.