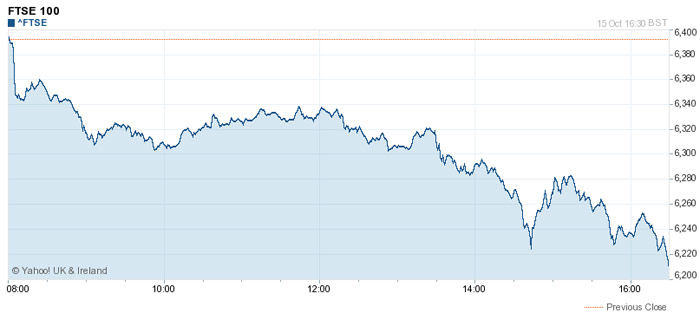 Stock Market in Meltdown – FTSE 100 Loses Almost 3% In A Day!
It's been a horrific day on the stock markets today with the recent sell off extending further and at a faster pace, with the FTSE 100 down by almost 3% and an unbelievable £46 billion of value wiped off UK company shares.
It's been a 'perfect storm' of late consisting of the Ebola crisis, ISIS, Eurozone economic fears, weak Chinese data and the sell off in US shares, which has spanked the FTSE 100 from a recent high of around 6800 to today's close of 6211.6.  This is the lowest the FTSE 100 has been since July 2013 and few would be confident to bet against this not being the bottom, we could see a retrace that puts us back to 2012 figures.
Many analysts have warned of a retrace for quite some time as the economic recovery has been far more fragile than it has appeared on the surface.  The UK itself is actually doing fairly well compared to most other countries (for instance today's jobless rate figures showed a fall to 6%, the lowest since 2008) but the weight of the rest of the world's struggles inevitably weighs on the UK market.  The effect today, and even more so combined with the past few weeks, is catastrophic with many investors losing a lot of money.  Our portfolio is around 6% down this month, with only a 0.3% drop today, but we tend to invest in quite cautious shares for the most part so its mostly our more speculative shares (e.g. UK Oil and Gas, Lenigas PLC, Optimal Payments and Tyratech) that have been effected along with travel companies Tui Travel and Flybe (understandably given the Ebola situation).
So What Next For The UK Stock Market?
October is often a tricky month on the stock market and we had a small correction around this time last year which quickly reversed.  This is something a bit more serious though and I'd be particularly worried if the 200 day moving average were broken through, which on my chart is around 6170.  I feel that could really signify a further fall back.
External risks for further drop off would be an intensification of the Ebola outbreak, any kind of ISIS attack on the UK or US, and further trouble in the Eurozone.  Greece are looking very fragile – their stock market dip dwarfed ours today with around 9% wiped off it.  The reason for this is to do with their 10 year bond yields rising above 7% a few days ago which is seen as an indicator of a likely payment default (this in spite of Greece actually requesting to be let out of their IMF rescue package, saying they dont need it any more).  Across the Atlantic, the US had their own sell off – led by poor manufacturing and retail data.
Of course it's entirely possible that this will all blow over, in fact that's almost a certainty but the question is will it blowover in the short term (i.e. in time for the traditional Christmas rally) or will it linger for an extended period of time?  I'm inclined to think this particular dip will reverse this year, but then come back next year at some point with a vengeance.  The world's economies are on such shaky ground that I expect the markets to show more volatility in the next few years.
Is Now The Time To Buy Or Sell?
As I always say, we arent an investment advice website or a tipping service so you must do your own research and decide.  What I personally feel though is that now is the time to sell any speculative stocks and fill up on good value high dividend stocks that have seen their prices eroded and their dividends magnified by this drop.  As Warren Buffett is frequently quoted "be fearful when others are greedy and greedy when others are fearful.".  Contrarian investors like Mr Buffett live for these kinds of market dips and buying opportunities.
On our part I greatly regret that we reinvested almost all of our funds a few weeks too soon last month as we could pick up some great bargains right now if we had more of our portfolio in cash.  We were buying in when the FTSE 100 was at 6500 as we thought that was the cheapest we were likely to see this year whereas now we could have been buying in while its at 6200 (and possibly lower next week).  Having said that, no one can time the bottom of the market and I'm confident that our recent purchases will bear fruit, we may just be in for a bit of a wait before the market bounces back.  For those of you whose timing has been better though, or just have spare cash to invest and are patient long term investors rather than short term traders, I'd be looking at the stocks that are now offering 5% or more in dividends whilst having Price to Earnings Ratios of around 10 or lower (backed up by sound financial positions of course).  I'm talking about shares like Direct Line (PER f 10.7, Dividend Yield f 8.35%), E-Sure (PER 9.95, Dividend 8%), Berkeley Group (PER 8.7, Div 8.5%) and City of London Investment Group (PER 10.5, Dividend 8%).  As I've said in a previous article, I like my core shares like I like my houses – high yield with potential for capital gain and minimal room for capital loss!
Disclosure: We own shares in all of the stocks mentioned except Direct Line, Esure and Berkeley Group who we do intend to take positions in soon (but not in the next 48 hours).  As always do your own research, this is a very risky time to be investing in the stock market and your capital can go up or down very quickly in these kinds of market conditions.